Choose Your Own Adventure ~ Vehicle! New Overlanding Series!
How to Pick the best Adventure Rig for YOU!!
When it comes to choosing the Perfect Overlanding Rig there seems to be tons of choices out there… well maybe🤔🤔🤔
In our second class we look at what types of vehicles are available and what the modification process is to suit your needs.
This series was inspired by one of our customers, he was brand new to overlanding and needed to know all of the steps to join the ever growing community!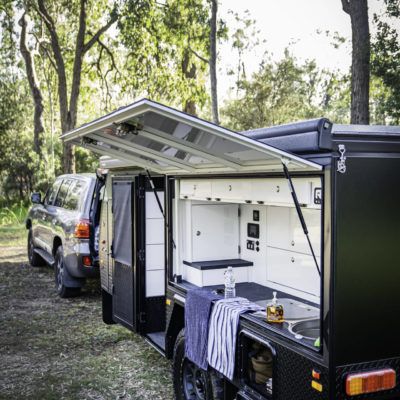 Topic 1: Vehicle Selection A lot of people may already have a vehicle in mind that they want to start with and that is great. Choosing a vehicle is a very personal decision with multiple variables that can affect what you end up driving. I always start any project with the end in mind and the end for Overlanders are the trails and adventures that we want to explore.
Topic 2: Mid or Full Size Rig?  Size matters… but which one matters more? Mid size rigs are more nimble on the trails, but limit interior space and power. The Full Size rigs can be cumbersome on tighter trails while adding more space, towing capacity and power. For our family of 4, midsize works great,  it doesn't limit the trails and we all fit comfortably, especially with being able to have a majority of our gear in our Lifestyle Camper. If you have a bigger family or just want to spread out a bit, full size interior space makes the longer trips fantastic.
Topic 3: Capabilities Having your end goal in mind helps to determine how capable your vehicle needs to be. For example, my end goal is to be able to travel any Backcountry Discovery Route in the US and be able to tackle some of the Iconic Trails such as Hell's Revenge.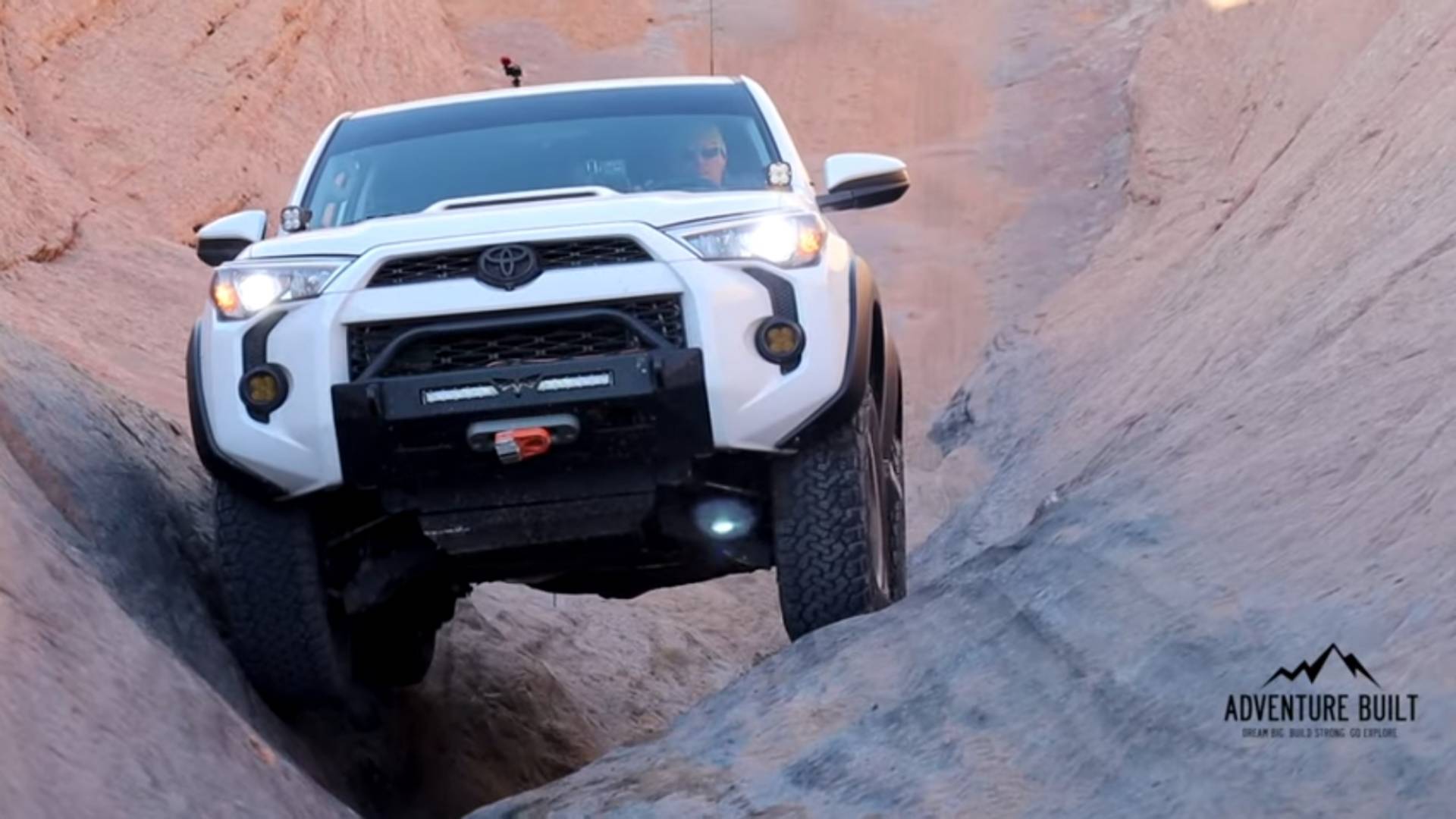 List of Main Capabilities
Reliability – Your journey won't go very far if your vehicle is always in the shop for repairs. A strong track record from reputable manufactures goes a long way. Make sure the vehicle you are looking for has a good track record, however, remember that even the most reliable brands have had a few bad years. 
Offroad Prowess – Everyone wants every option in the book. Front and Rear Lockers, Terrain Management Systems, Sway Bar Disconnects, etc. But again, what is your end goal. For most a Solid 4WD system and Rear Locker will get almost everywhere you need to go.
Weight Capacity – Overland Vehicles get HEAVY, with all of our gear it adds up and it is scary when people actually take their vehicles to the scales. This is where a lot of Jeeps fall off for longer adventures. They are weekend warrior local crawlers, but once loaded up they will break GVWR. This is also where a trailer helps out. You can move much of your gear and equipment into the trailer and shed thousands of pounds, only adding 300-500 pounds of tongue weight.
Towing Capacity – This is going to be your limiting factor for the size of trailer you get. I remember when the rule of thumb was "never go above 60% of your towing capacity", however, in all my research all manufacturers air on the side of caution when calculating their max, so you can safely operate your vehicle up to the full capacity of the vehicle. 
Power – Torque and Horsepower work together to get the tires moving. Most of the manufacturers' marketing focus is on horsepower which is fine if your playground is flat, however, the real king when offroading and towing is Torque!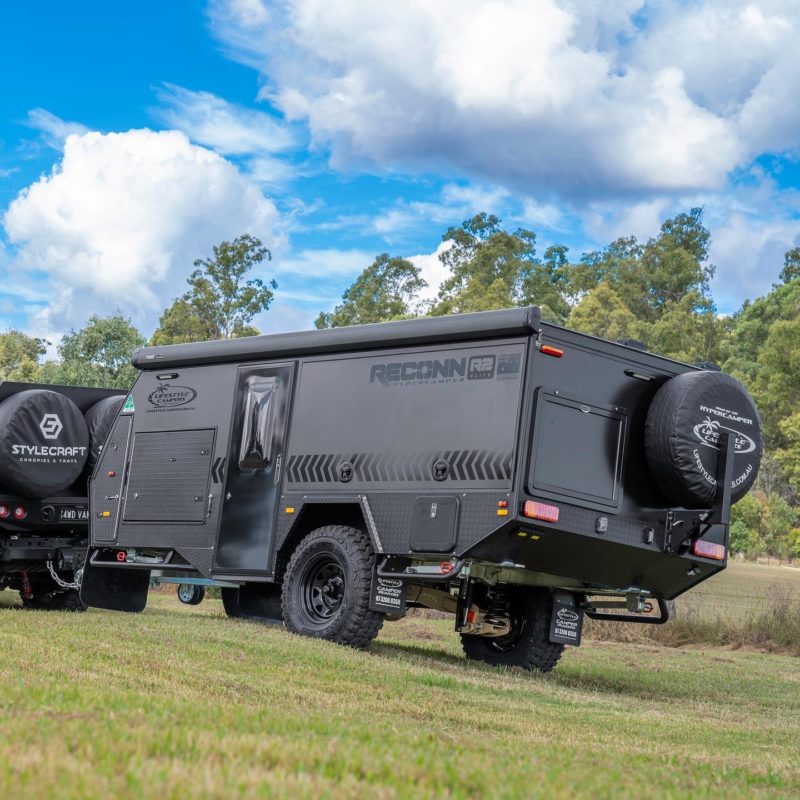 Topic 4: Cost  The more capable a vehicle is, then the more it will cost. You have to realistically look at your end goals and match that with your budget. That may mean you are not getting a brand new vehicle with all the bells and whistles but there are always more affordable options in the used car market. If you do get a base vehicle with plans on building it out, do it on paper first to ensure that it is practical. I can not stress enough to start with the end in mind. Your offroading upgrades will cost near the same no matter what vehicle you choose, so the base vehicle is the main determining factor to meet your budget. If your accessory build sheet totals $10,000 then your all in budget could be $25,000 for a used Frontier Pro4X vs a new Tacoma Off-Road at $75,000. 
Topic 5: Rugged-ability  Not all Overland Rigs have to be body on frame, heavy duty vehicles. There are crossovers that can make great options if they fit your specifications. However, if you do plan on pushing further into the backcountry, towing and harder trails than body on frame will add more rigidity to make your vehicle more rugged and thus more self reliant. Toyota/Lexus, Ford, Ram and Nissan are the best options based on my research.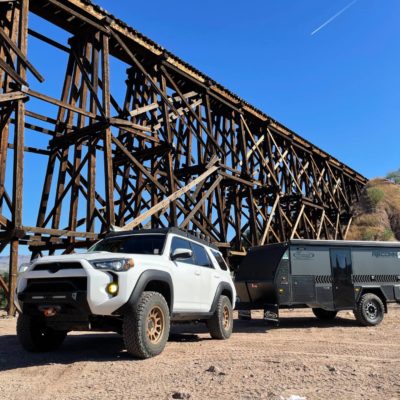 Topic 6: Aftermarket
A lot of this will be covered in the build process below. In general make sure that market is there to support your build no matter if it is mild to wild. A great example of this is the Nissan Titan, in my mind the best full size truck in the off road market. However, there is very little in the market which can make it a challenge to get the build exactly the way you want it. 
Topic 7: Overseas Access
If your plans are to travel the globe then access to parts and service will be very important. In the US we are used to getting anything we want in a few days, thanks Amazon. However, once you embark into developing nations that luxury is gone. You have to make sure that vehicle parts and even tires will be readily available as you go from country to country. Not all vehicles in the US are globally available so parts will be hard to come by. And while a 35 inch tire is common here perhaps you will have to go with a 31 or 32 inch tire. 
I had originally all the Build out Steps in this article, but it was turning into a novel, so catch the next article in our overland series before Xmas and it will have all those great links for all of the best tried and tested aftermarket overland options!
(Trevor and AJ are overland enthusiasts, They Import Lifestyle Camper Trailers from Australia to the west coast and distribute them all over North America. Trevor is currently serving in the U.S. Military and AJ is a Realtor in AZ, they travel with two adventurous boys and an adventure dog. They Drive a Toyota 4runner and Lexus GX, their personal camper used for adventures and Demos is a Lifestyle R2)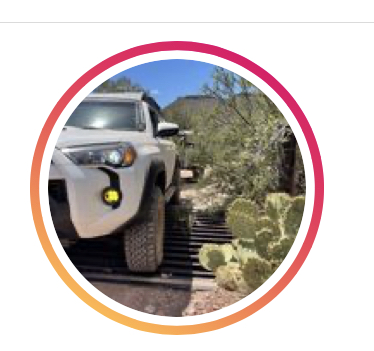 Follow us at Our IG account @overlandingnorthamerica
https://www.instagram.com/overlandingnorthamerica