4 Things You Must Know Before You Go Off Road Camping With Kids!
4 Things You Must Know Before You Go Off Road Camping With Kids!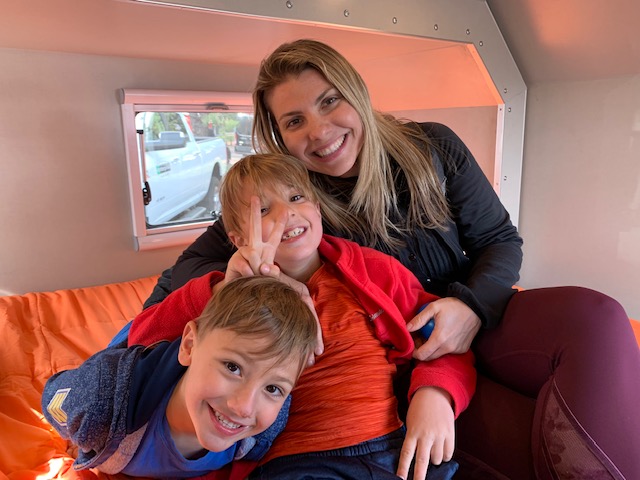 I hope that I can assume you clicked on this article because you have some desire to take your kids on the trail with you, to experience the adventure and beauty of the great outdoors!
First of all, congratulations on your bravery! Taking kids on the road is not for the faint of heart, but with great sacrifice comes great reward. We've Gathered some helpful tips to share with all you other brave parents who are ready to hit the road and make some amazing memories with your kids!
Step one – The Prep and Pack
When we hit the road with kids in tow we have learned that expectations are critical for the kids and ourselves.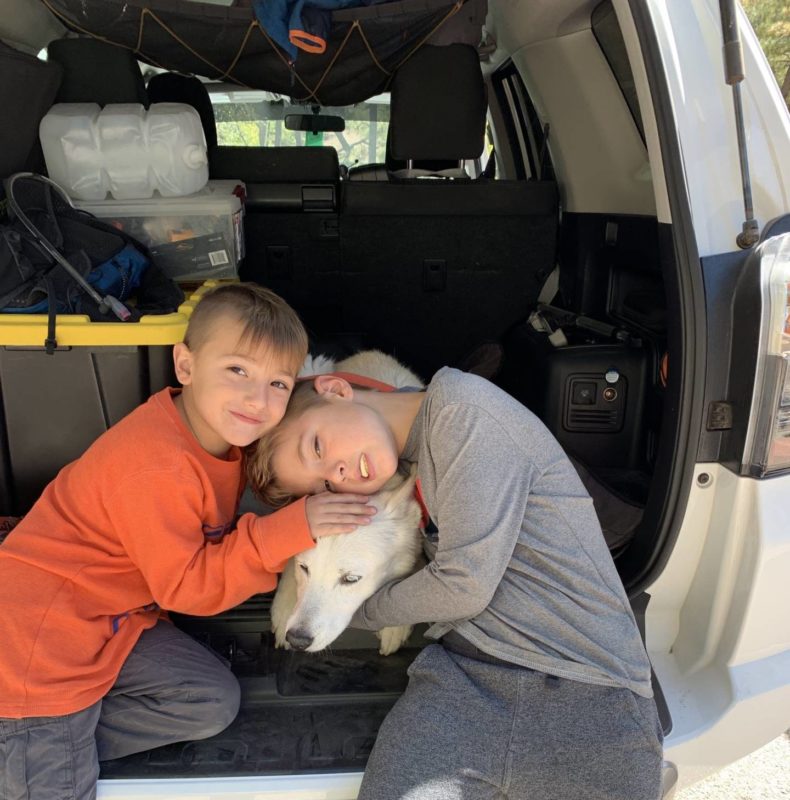 There may be times we would drive 7-10 hours to get to our next adventure, if we are on the trail shooting video sometimes that is the whole day.
The First Expectation is to establish boundaries. Kids need structure and it is hard to set when trapped in a vehicle. Let them know what they can  and can not do for self entertainment. In our hundreds of hours and thousands of miles, we have found that less is actually more. In the past we would bring a huge bin filled with a variety of activities such as coloring, games and electronics. Now we keep the same activities but just a lot less of them. Each child gets to pack their own backpack (with parental supervision and Veto power) with their chosen activities. This is very important to get the kids excited about the trip and allow them ownership of how they spend their time.
Kids Basic Activity Packing List:
Story Book and School Activity Workbook
Adventure Supplies (Intro to 10 Essentials):  Water Bottle, Headlamp, Small Band-Aids, Binoculars, Magnifying Glass, and Emergency Whistle.
Tablet with Headphones
Single bag of preferred coloring implements (crayons, pencils, or erasable markers)
Sketch Book or Plain Paper with Clipboard
Travels Games, Normally Compact Cards or Travel Specific
Frisbee or Ball for exercise during stops
Stuffy (Either one Medium or two Small)
The Second Expectation is to tell them how much time is allowed for different activities. For non-electronics we allow unlimited time but for my kids Screen time on trips is their go to and this can be a touchy subject We certainly don't want our kids on screens the entire drive but we do prepare for some amount of screen time.  Remember that todays tablets can do so much, so we have educational time and pure entertainment time separated. We generally let them have an hour more than they get at home for entertainment and allow a couple more hours for education, which depending on age can be education apps or drawing. My kids (9 and 6) are now starting to make slide shows with the pictures they take from the previous days adventures, even recording their own songs for the sound track.
When prepping for pure entertainment make sure to download a few family movies that they've been wanting to see because you never know if you'll have signal on the road, most streaming services have an option for downloads, we have found that very helpful.
Step 2 – Plan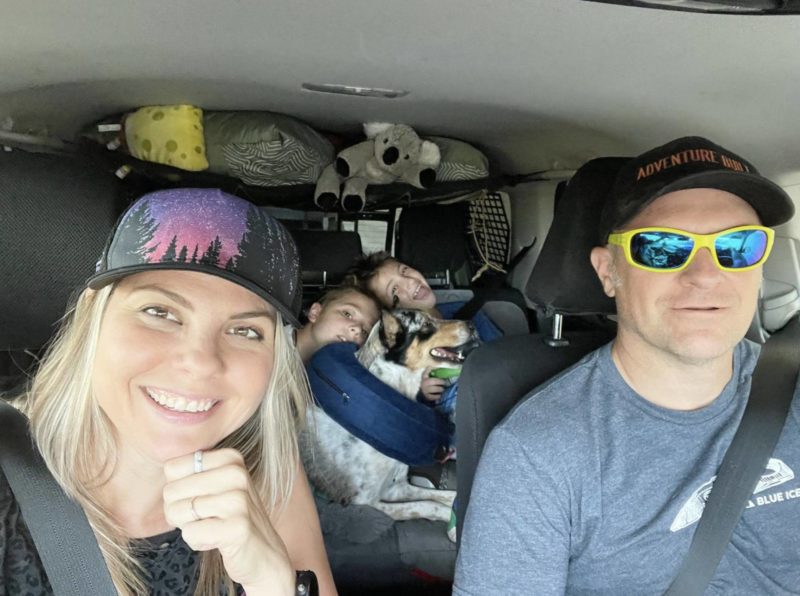 Plan to be engaged as a parent. Part of having a good memorable trip is YOU being part of it. Bring road trip games such as "road trip bingo", "tic tax toe" and then there is always "eye spy" no equipment required.
Ever tried family story time? On our last trip we all listened to a book series on audible, and it was so fun bonding over a story together. We actually looked forward to driving so we could all listen. Some of our kids favorites are The Hobbit, Gregor The Overlander, Star Wars and Percy Jackson.
Step 3 – Execution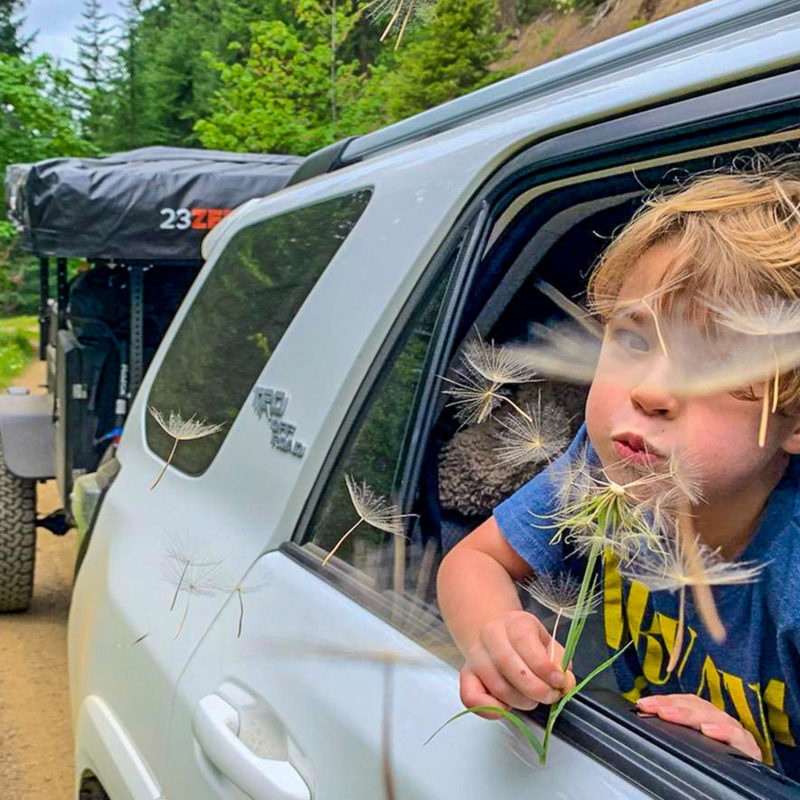 Try to break up the trip and include planned stops for activity, we plan an extra 3 hours over typical travel time because we want to make sure that all of us are staying active. That means getting out and running around or hiking for 30min-45 every 3 hrs. This is a great time to give healthy snacks or have a full meal.
We all know that kids are the worst when their hangry so try to keep normal eating schedules as much as possible!
In the summer we escape the desert heat to somewhere a bit cooler. That means when we are traveling across the desert we take as few stops as possible, or travel during the night time. As soon as we are in decent weather we find a park or a decent rest area, if we're on the trail we find a cool open spot, don't over think finding an outdoor spot, kids have imaginations and can find fun in what you might think looks boring. Just make sure it's not right by a cliff or on the actual driving trail and you should be good.
If they need inspiration to explore ask them if they can find a specific looking rock, feather, stick, or find a flower and then come get you to go see it.
Step 4 – Be Ready For Bumps In The Road
Kids are kids, no matter if they are home or on an Epic Trip, so they are going to get moody and there will be ups and downs and an occasional full melt down. Then if you have more than one you know that siblings are going to fight. In our experience there is no Secret to avoiding these bumps except to Prepare yourself mentally for them and try to keep positive, generally it will be better than you anticipate. If you stay positive and engaged with the kids, follow the steps above and it will mitigate the boredom and bring more joy to your Family Adventures!